Why You Need to Put the SCFA Conference On Your Calendar ASAP
RAFT Team, March 15, 2021
The burnout and compassion fatigue experienced by domestic violence and sexual violence advocates is taxing — mentally, physically, and psychologically. We need to give them all the support we can.
Which is why we're excited to share we're partnering with Self-Care for Advocates for their second annual virtual conference. This year's SCFA Conference dates glimmer just on the horizon! For three full days — May 12-14 — experts in the field will speak on topics of burnout, vicarious trauma, trauma-informed supervision, community care, mental health, and more.
What's Coming in 2021
The opportunities to learn and gain practical tools in your personal and professional life can change your life and keep you doing what you love far into the future. This year's topics have begun trickling in and include:
"Superheroes Need Rest Too: A Strengths-Based Approach to Self-Care"
"Integrating Trauma-Informed Principles into Clinical Supervision"
"Conversations with a Wounded Healer"
"Radical Movement, Liberating Work: Building a Healthy Occupational Identity in Mission-Driven Agencies"
"Self-Care and the Practical Uses of Somatic Experiencing"
"Unpacking Microaggressions and Other Isms Towards Women of Color in the Workplace"
Make your plans to attend. Scholarships are available for those who need help covering this year's $25 cost. To help you prepare well and get the most from your investment, check out our 15 tips to help fight virtual meeting fatigue. You'll learn great lessons about how to stay engaged during virtual conferences.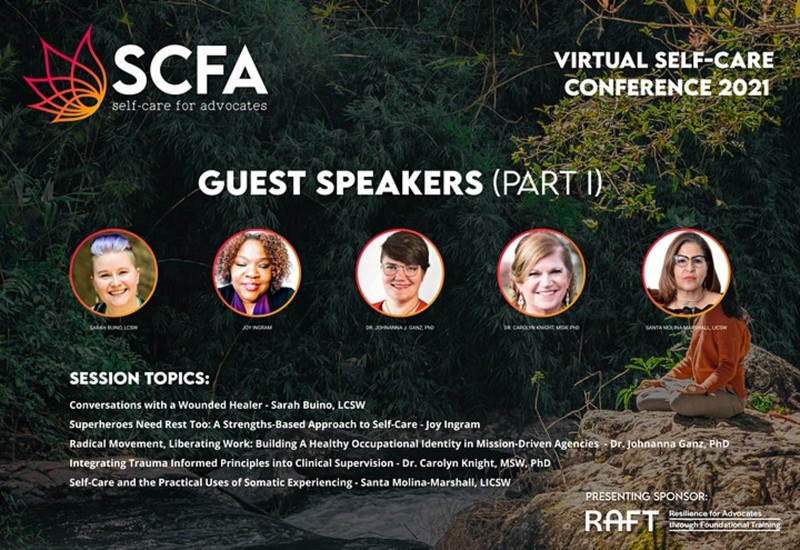 A Review of the 2020 Staying Afloat Conference
Many of the advocates who attended last year shared that this was the highlight of their year. And for a taste of what this year may bring, you can listen to every single one of last year's talks when you sign up for our free advocate resources. These tools can help you both at work at home — immediately. You're not alone!
Last year's Staying Afloat conference included these dynamic speakers:
Trace Fleming-Trice
Myra Strand
Ben Atherton-Zeman
Jacquie Sunny Barbee
Alex Oh and Nikolay Borisov
Linda Douglas
Zoe Flowers
Erlene Grise-Owens
Alyce Jurgensen
Katherine Manners
Jeremie Miller
Andrea Patten
Becca Bishopric Patterson
Alysha Warren
Our founder Indrani was last year's keynote speaker and led things off with a presentation titled, "Healthy Boundaries Is the Antidote to Compassion Fatigue." She'll be the keynote speaker again this year, and you'll definitely not want to miss her challenging yet uplifting and practical address.