Staying Afloat – Online Video Conference
Tools For Creating Sustainable Resilience For Advocates and Agencies
Presented by: Self-Care For Advocates and RAFT
This Conference happened May 28th and 29th, 2020 and is now over. But that doesn't mean you missed it! Subscribe to get the recordings here!

---
Speakers Included:
Trace Fleming-Trice
Indrani Goradia
Myra Strand
Ben Atherton-Zeman
Jacquie Sunny Barbee
Alex Oh and Nikolay Borisov
Linda Douglas
Zoe Flowers
Erlene Grise-Owens
Alyce Jurgensen
Katherine Manners
Jeremie Miller
Andrea Patten
Becca Bishopric Patterson
Alysha Warren
---
Conference Sessions:
All times Eastern Standard Time. All times tentative. Final schedule will be shared closer to the conference.
DAY ONE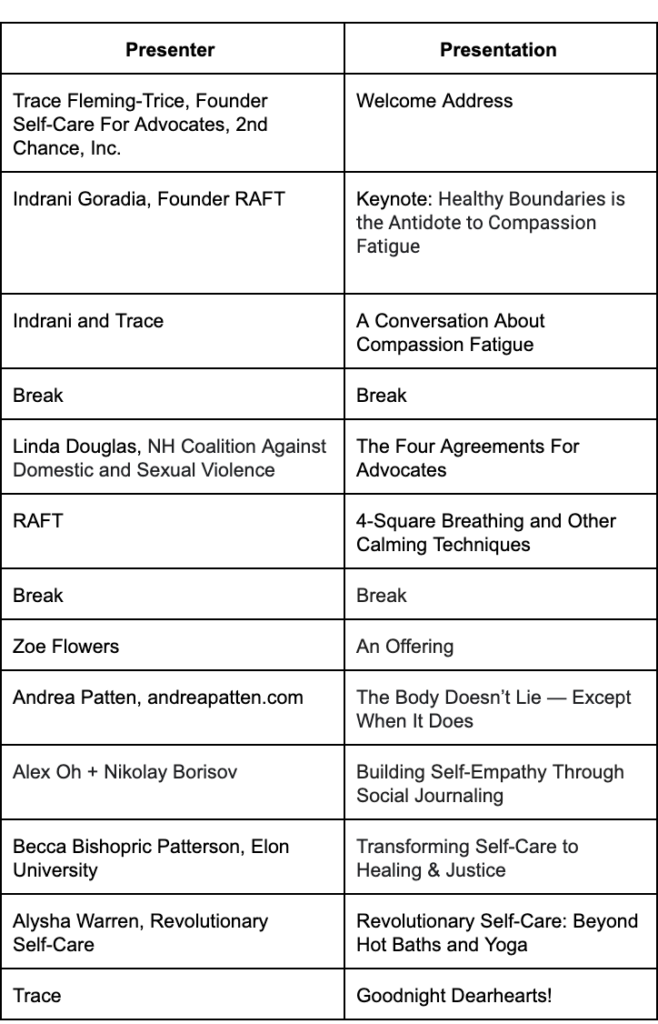 DAY TWO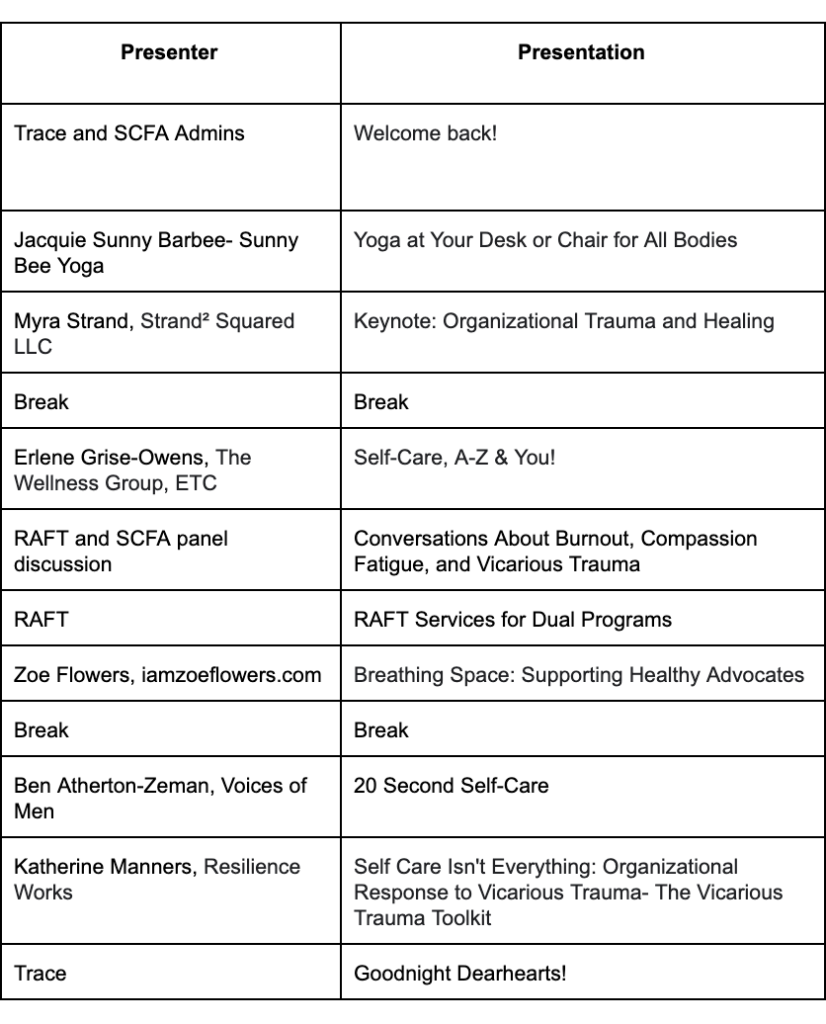 ---

---
Meet the Speakers: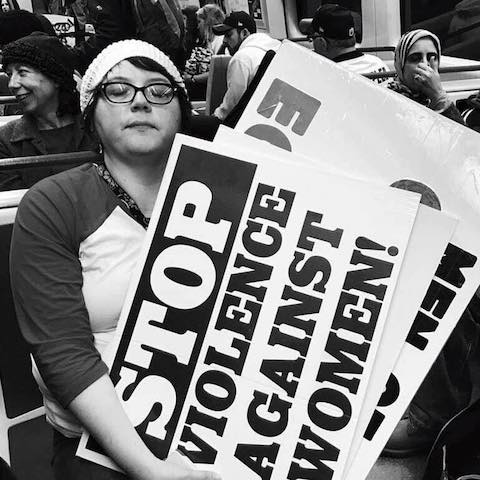 Trace Fleming-Trice
(she, her, hers) Trace Fleming-Trice, LMSW has been an advocate for sexual violence victim/survivors since 2005. She considers herself to be reasonably friendly and mostly harmless. Trace founded Self-Care for Advocates in 2014 and is the lead administrator of the 3000+ member Facebook group. Trace has served as a member of the Alabama Coalition Against Rape (ACAR) Board of Director in various capacities including Board President and currently sits as the Legislative Committee Chair for the ACAR Membership. She was part of the National Take Back the Night Foundation Advisory Board and served on the Executive Committee of the Alabama Society of Healthcare Social Workers Board or Directors.
Currently, Trace is a volunteer for RAFT- Resilience for Advocates Through Foundational Training and Camp Model City for LGBTQIA+ youth. Trace has been recognized as an Emerging Southern Leader by the Emerging Change Makers Network, has spoken on National Public Radio on workplace stress, and has been featured on the international anti-violence against women website, the Pixel Project. Trace has been the Sexual Violence Program Director for 2nd Chance, Inc. a dual domestic and sexual violence crisis agency in Northeast Alabama since 2012 and is also an adjunct social work instructor at Talladega College.
---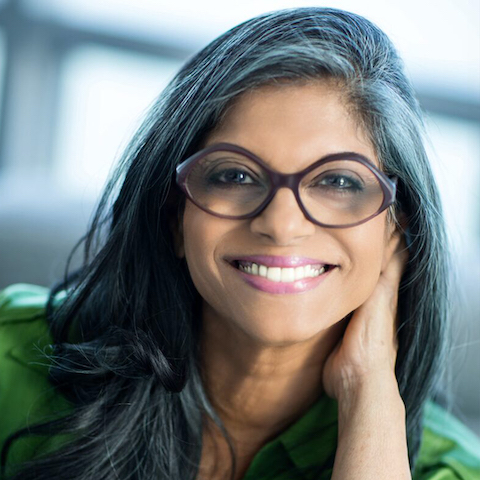 Indrani Goradia
Indrani Goradia is a philanthropist and an advocate for women's health and empowerment.
Indrani is a tireless advocate for girls and women, leading empowerment trainings in several countries around the world. She is a board member of Everywoman Treaty and Think Equal.
In 2013, Indrani joined forces with the global health organization PSI and the Bill & Melinda Gates Foundation to transform the lives of girls and women and lift them out of poverty.
In partnership with PSI, Indrani's Light Foundation launched programs in 2014 to eradicate gender-based violence in India and in her home country of Trinidad.
As an in-demand author, speaker, and master certified life coach, Indrani delivers keynote addresses and leads workshops around the globe. She has also participated as a speaker at the World Women's Health and Development Forum at the United Nations.
In addition, Indrani has served as a keynote speaker and/or panelist at multiple international gatherings that include:
The Nexus Conference in Jamaica
The UBS's "It's a Girl" conference in Switzerland
The Global India Fund's Girl Rising screening and panel in Washington D.C.
Women Moving Millions – A global community dedicated to advancing women and girls
The TEDx Port of Spain 2015 Conference
The 2016 Women Deliver Conference in Copenhagen
Indrani's TEDx Talk, Love Expressed as Violence is a Lie, can be found here.
Indrani completed her formal education in New York City, attending Queens College and Kent State University. She recently earned a certification in Social Impact Strategy at UPenn and completed an executive leadership program at THNK in Amsterdam. Indrani is a master life coach and yoga teacher.
Indrani became a triathlete and marathoner at 50 and believes the body needs exercise. In her spare time she quilts and travels with her family.
---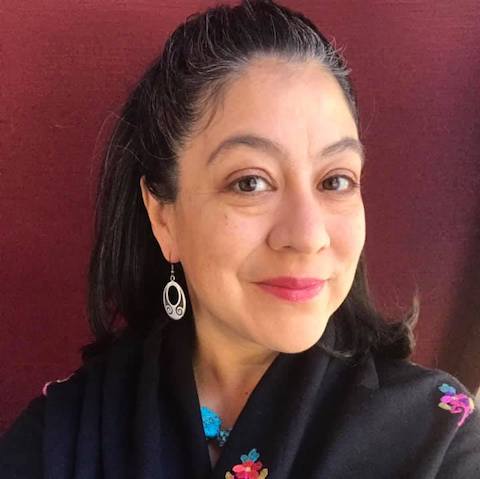 Myra Strand
(she/her/hers) Myra Strand MA, CA, is the Chief servant leader and owner of Strand² Squared LLC where she provides training and education, both in person and through the online academy and consultation and agency support services. Last year, Strand Squared provided training and education to over 30,000 professionals in the field of trauma. She is also the Chief Barrier Eliminator and Lens Complicator for the Hue.myn Experience, a 501c3.
Myra began working with people who have trauma in 1995. She has experience with youth with complex trauma and serious mental illness, people with developmental disabilities, youth in competing war zones, county inmates, in the area of death notification and with victims of all crime types.
In her previous position as CEO at Victim Witness Services (VWS) for Coconino County, Myra's focus was to drive the sustainable growth of VWS in three areas: Vicarious Trauma Mitigation, Evidence Informed Practices, and the Expansion of Geographic Reach. She had a central focus of applying trauma informed response and care.
Myra spent nearly a decade teaching on issues of violence, applied intersectionality and contemporary social issues at Northern Arizona University and later Coconino Community College. She lives in Flagstaff Arizona with her partner and husband, Russell Strand, two sons and dog, Yeti.
---

---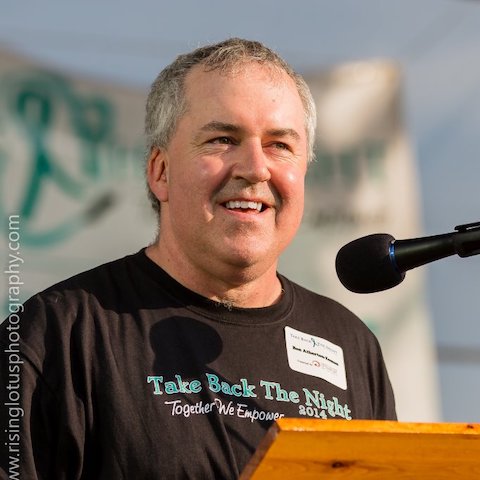 Ben Atherton-Zeman
(he/him/his)Ben is a divinity school student, public speaker and comedic performer on issues of violence prevention. He has given performances and keynotes in 46 states, Canada, England, Turkey, China, South Africa, India, Nepal, Scotland, Spain and the Czech Republic. Ben has spoken and performed at military installations, colleges, high schools, public theatres, conferences, houses of worship and juvenile detention facilities. For almost thirty years, Ben has worked as a prevention educator for rape crisis centers, domestic violence programs, and state coalitions. He is an advisory board member for the White Ribbon Campaign in the United Kingdom and a blogger for Ms. Magazine.
Ben is seeking ordination as a Unitarian Universalist Minister, to continue working for social justice in a parish ministry. He is attending the Boston University School of Theology, the School of the Prophets where Dr. Martin Luther King, Jr. received his doctorate.
Ben is learning how to use Twitter, and occasionally tweets as @feministben. He's trying to popularize the hashtag #menlistentowomen. Ben identifies as a "recovering sexist" and believes every man must challenge violence and sexism in the world and in themselves. He met and fell in love with his incredible wife, Lucinda, twenty years ago while they were both doing improvisational comedy – they live in Maynard, Massachusetts and have no children except themselves.
For information about Ben's one-man play, "Voices of Men," please go to www.voicesofmen.org.
---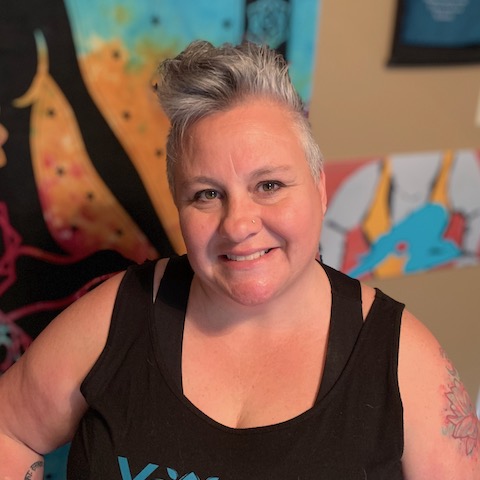 Jacquie Sunny Barbee
(she/her/hers) Plus sized body positive yoga teacher that focuses on making yoga accessible and inclusive to all bodies regardless of size, age, ability or income. I work to help people be more comfortable in their bodies and celebrate what their bodies can do instead of focusing on what we don't love about it. When we learn to love ourselves on a deeper level we have more confidence to serve others.
---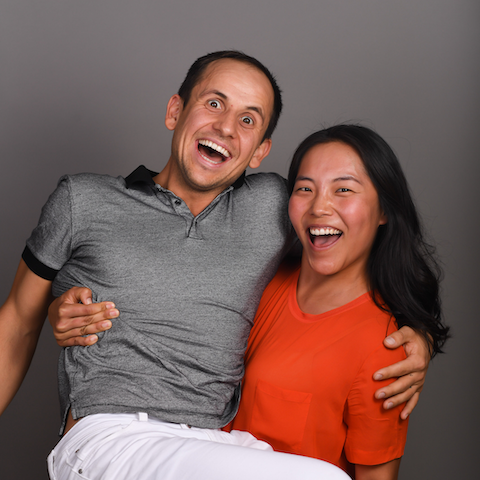 Alex Oh and Nikolay Borisov
Alex Oh and Nikolay Borisov are the founders of Ohlay, a culture consultancy focused on building more meaningful connections. Our shared vision is to spark a cultural shift in the way that people connect with themselves, with others, and with their work. We believe in a world where people show up fully in every aspect of their lives. People who lead with heart and purpose, and where meaningful work and connections are the norm. We want to build strong communities and organizations by building strong connections from within.
We partner with leaders, entrepreneurs, and advocates to explore different channels and possibilities for engagement and communication. We've worked with over a hundred startups and businesses to co-create spaces, platforms, and content that reflect the people and communities that share it.
Our favorite way to build meaningful connection is through social journaling. We truly believe in the transformative power of journaling together to springboard more meaningful conversations, to build deeper connections, and to practice greater self and community care.
---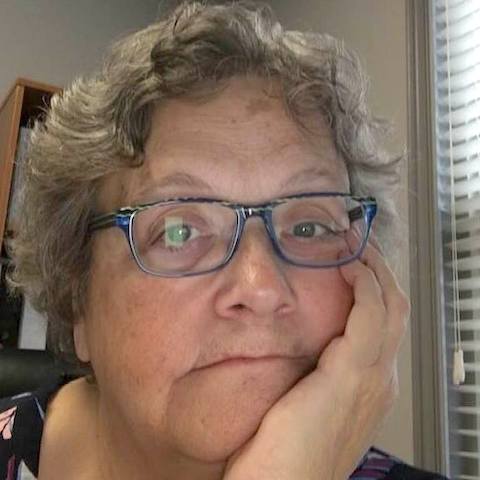 Linda Douglas
(she/her/hers) Linda Douglas is the Trauma Informed Services Specialist for the NH Coalition Against Domestic and Sexual Violence working to enhance the capacity of programs of the coalition, and local communities, to address the complex needs of victims with responses to trauma. She has been training statewide and nationally for the past ten years.
---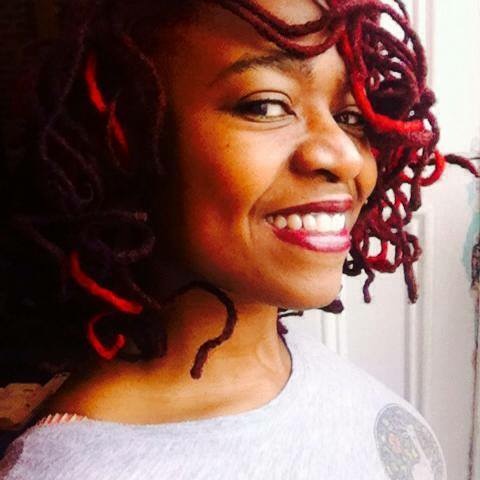 Zoë Flowers
(she/her/hers) Zoë Flowers is an author, filmmaker, and writer for the Huffington Post. Her poetry and essays can be found in Stand Our Ground; Poems for Trayvon Martin and Marissa Alexander, Dear Sister: Letters from Survivors of Sexual Assault and the upcoming anthology, Love WITH Accountability: Digging Up the Roots of Child Sexual Abuse. Her articles and interviews can be found on The Grio, Bloom Magazine, and several other online journals.
In 2004, Zoë interviewed women about their experiences with domestic and sexual violence. From Ashes to Angel's Dust: A Journey Through Womanhood is the book that emerged. ASHES – is a play that breathes life into the original stories chronicled in Zoë's book and includes new stories about the media, campus sexual assault, body image, and the journey to self-love. ASHES has had many successful performances including; Yale University's Fearless Conference, The White House's United State of Women Summit in 2016, National Coalition against Domestic Violence's National Conference, Smith College and Brown University in 2018.
Now with twenty years of experience, Zoë's worked at several state domestic violence coalitions and the Women of Color Network where she started as a consultant and transitioned to the Director of Survivor Programs. She's has appeared on National Public Radio, was the keynote speaker at Bowie State University, The Florida Coalition Against Sexual Violence statewide conference and The New York State Coalition Against Domestic Violence. In 2019, she presented a workshop entitled, "Utilizing Performance as an Intersectional Response to Violence Against Women in Fez, Morocco and conducted listening sessions in London, UK and Edmonton, CA. She was also the keynote speaker at SUNY Adirondack's We. Say. No Conference, Delaware's Victim Service Conference, and returned as keynote for The New York State Coalition Against Domestic Violence Prevention Summit.
---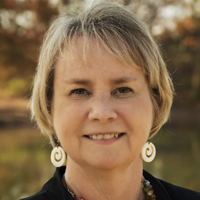 Erlene Grise-Owens
(she/her/hers)Erlene Grise-Owens, Ed.D, LCSW, MSW, MRE, is a Partner, The Wellness Group, ETC . Dr Grise-Owens provides trainings, consultation, resources, and research on self-care and organizational wellness. Amongst her contributions, she is the lead editor of The A-to-Z Self-Care Handbook for Social Workers and Other Helping Professionals. Also, she writes a blog, Self-Care, A-Z.
---

---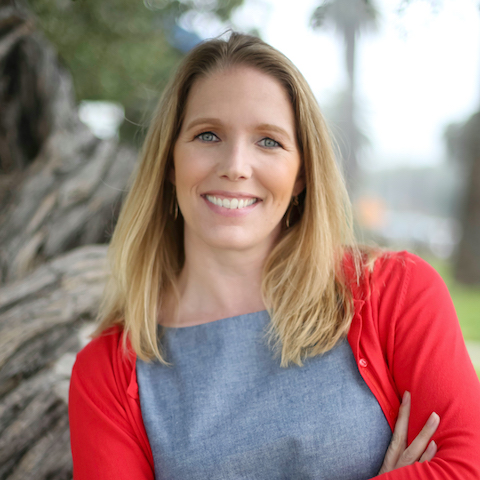 Alyce Jurgensen
Alyce is a certified Life Coach and a Licensed Clinical Social Worker with a Master of Social Work from the University of Maryland. She began her career over fifteen years ago as a counselor at a sexual and domestic violence organization and furthered her career as a Psychotherapist at Johns Hopkins in Baltimore. She facilitates our one and two-day RAFT workshops for staff at sexual and domestic violence organizations across the country.
Alyce is passionate about supporting the often unrecognized staff at sexual and domestic violence organizations and furthering her mission of "turning surviving into thriving." She also trains new RAFT volunteers to help spread our message.
Alyce also works as a life coach, helping women build a life of connection, adventure and purpose. Currently, Alyce resides in Los Angeles with her husband and loves to travel near and far, always with a delicious cup of coffee and a great book.
---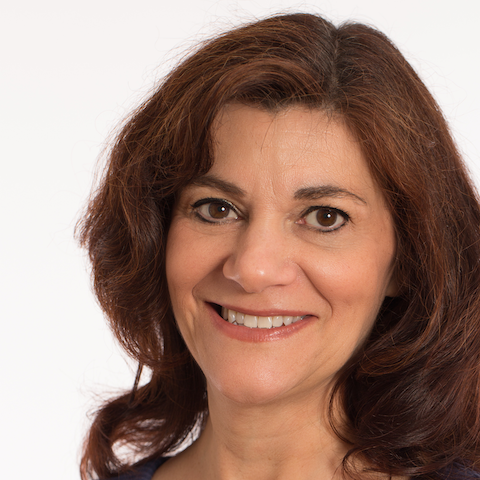 Katherine Manners
Katherine Manners, M.Ed., LMFT is a senior partner at Resilience Works, providing training, technical assistance, and consultation to victim service, law enforcement, legal and crisis responder programs. She has more than 30 years of organizational consulting and training experience on the topics of trauma-informed care, vicarious trauma and homicide bereavement. Most recently, Ms. Manners has served as the resource coordinator for the OVC Vicarious Trauma Toolkit, providing research and material development for trauma serving organizations.
Currently, she is providing training and technical assistance for several federal grants including the Vicarious Trauma Response Initiative and the Collective Healing Project with the International Association of Chiefs of Police. She is the co-founder and author of a program and curriculum that provides information and support to direct service advocates on secondary traumatic stress, organizational development, and self-care. She provides crisis intervention counseling, critical incident debriefings and therapy for victims of crime, providers and first responders.
---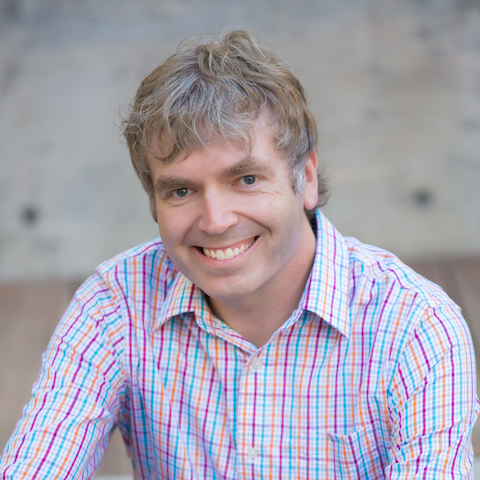 Jeremie Miller
Jeremie Miller serves as RAFT's Director of Operations to strengthen and spread our message of empowering advocates. He is a Certified Professional Coach with over 20 years experience as a teacher, coach, and counselor. He has a Bachelors in Education as well as Science.
Having experienced the trials and tribulations of the trade first-hand, Jeremie's passion for RAFT is deeply rooted. He has experienced the abuser side of the gender-based violence story through his past work in corrections, and has assisted survivors while working in crisis and suicide prevention.
His contributions to the RAFT team include visioning, strategy development, budgeting, team leadership, content development, writing, and teaching. On a personal level, Jeremie also teaches his young son about gender equality and gender-based violence based on the work of Indrani and the RAFT team.
Jeremie spends most of his time adventuring with his wife and son in Rossland, British Columbia, with occasional jaunts to various locations across the world.
---

---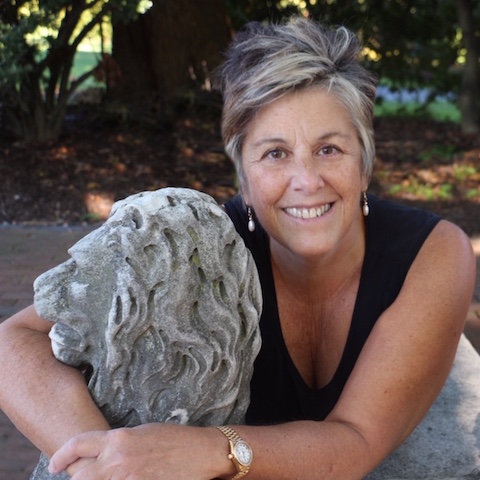 Andrea Patten
(she/her/they): Author Andrea Patten has spent her life as a creative problem-solver. Advocating with families to overcome addictions and IPV, she offers a slightly off-beat brand of support for people in search of a better life. She is the author of The Inner CriticAdvantage: Making Peace With the Noise in Your Head and What Kids Need to Succeed: Four Foundations of Adult Achievement. Her laptop is a graveyard of shitty first drafts but something new seems to be working its way to the front of the line. Patten lives on an island with her favorite husband and their three dogs … not always in that order.
---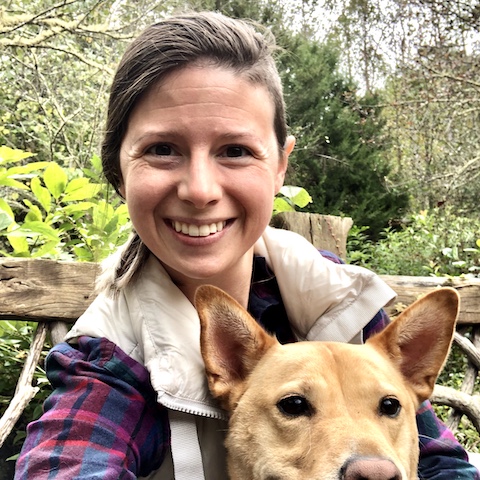 Becca Bishopric Patterson
(she/her/hers) Becca Bishopric Patterson is the Assistant Director for the Gender and LGBTQIA Center at Elon University, where she has held multiple roles since 2012. She has a B.S. in Interdisciplinary Studies: Public Health from NCSU and a MBA from Elon. For the last decade, her work has been dedicated to promoting wellness and justice within communities as a program manager, health educator, diversity and inclusion trainer, and gender violence prevention specialist. She has presented at state and national conferences on trauma stewardship, cultural humility, primary prevention, peer education and activism. She enters this work humbly, with an open heart, ready to grow and facilitate transformation. In her personal time, she is a partner, pet-mama, earth-lover and witch.
---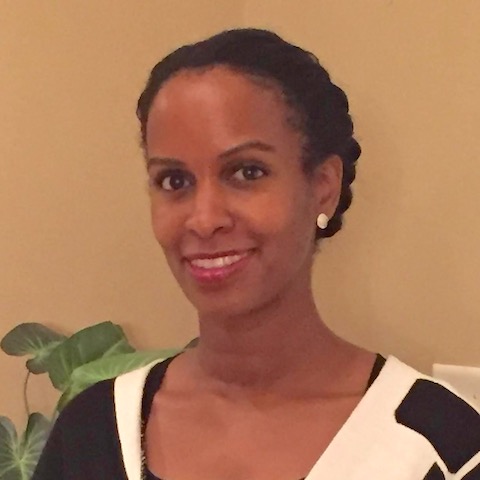 Alysha Warren
(she/her/hers) has spent her career connecting individuals with tools and resources to transform their lives through her work at non-profits, universities and leadership development programs. Her commitment to the field of sexual violence and trauma spans over 20 years. She worked as a peer educator in college and continued volunteering and working at various domestic violence and sexual violence organizations as an advocate, hotline crisis counselor, community educator and developing sexual violence prevention programs on college campuses. She has spent the last ten years developing her expertise in working with survivors of sexual violence including sexual assault, childhood sexual abuse, rape, stalking and relationship violence. Alysha believes that self-care is one of the foundations of living well. The mission of Revolutionary Self- Care was born out of her desire to create safe and supportive spaces where individuals, groups and organizations could create sustainable practices that would enable them to live the best version of their lives and support organizations' missions. The strategies she teaches in groups and workshops are under-girded by her background in counseling and psychology and her work as a therapist. She is a Licensed Mental Health Counselor in the state of Massachusetts.
---

---